seawater desalintaion machine for making fresh drinking water
Product Detail
Product Tags
seawater desalintaion machine for making fresh drinking water,
seawater desalintaion machine for making fresh drinking water,
Explanation
Climate change and the rapid development of global industry and agriculture have made the problem of lack of fresh water increasingly serious, and the supply of fresh water is becoming increasingly tense, so some coastal cities are also seriously short of water. The water crisis poses an unprecedented demand for seawater desalination machine for producing fresh drinking water. Membrane desalination equipment is a process in which seawater enters through a semi-permeable spiral membrane under pressure, the excess salt and minerals in the seawater are blocked on the high pressure side and are drained out with concentrated seawater, and the fresh water is coming out from the low pressure side.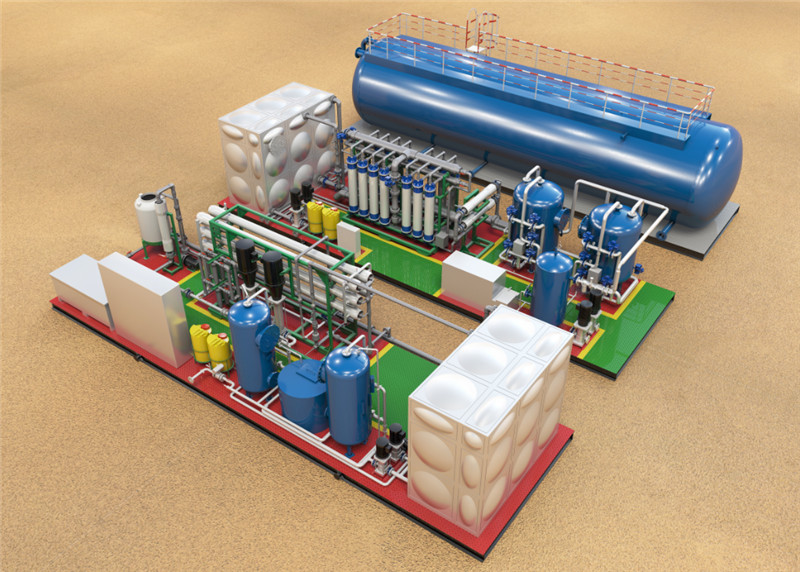 Process Flow
Seawater →  Lifting pump →  Flocculant sediment tank  → Raw water booster pump → Quartz sand filter → Activated carbon filter  →  Security filter →  Precision filter  → High pressure pump  → RO system  →  EDI system  →  Production water tank → water distribution pump
Components
● RO membrane: DOW, Hydraunautics, GE
● Vessel: ROPV or First Line, FRP material
● HP pump: Danfoss  super duplex steel
● Energy recovery unit: Danfoss super duplex steel or ERI
● Frame: carbon steel with epoxy primer paint, middle layer paint, and polyurethane surface finishing paint  250μm
● Pipe: Duplex steel pipe or stainless steel pipe  and high pressure rubber pipe for high pressure side, UPVC pipe for low pressure side.
● Electrical: PLC of Siemens or ABB , electrical elements from Schneider.
Application
● Marine engineering
● Power plant
● Oil field, petrochemical
● Processing enterprises
● Public energy units
● Industry
● Municipal city drinking water plant
Reference Parameters
Model

Production water

(t/d)

Working Pressure

(MPa)

Inlet water temperature(℃)

Recovery rate

(%)

Dimension

(L×W×H(mm))

JTSWRO-10

10

4-6

5-45

30

1900×550×1900

JTSWRO-25

25

4-6

5-45

40

2000×750×1900

JTSWRO-50

50

4-6

5-45

40

3250×900×2100

JTSWRO-100

100

4-6

5-45

40

5000×1500×2200

JTSWRO-120

120

4-6

5-45

40

6000×1650×2200

JTSWRO-250

250

4-6

5-45

40

9500×1650×2700

JTSWRO-300

300

4-6

5-45

40

10000×1700×2700

JTSWRO-500

500

4-6

5-45

40

14000×1800×3000

JTSWRO-600

600

4-6

5-45

40

14000×2000×3500

JTSWRO-1000

1000

4-6

5-45

40

17000×2500×3500
Project Case
Seawater Desalination machine
720tons/day for offshore oil refinery plant
Container Type Seawater Desalination machine
500tons/day for Drill Rig Platform
Desalination is the process of removing salt and other minerals from seawater to make it suitable for human consumption or industrial use. This is done by various methods including reverse osmosis, distillation and electrodialysis. Seawater desalination is becoming an increasingly important source of freshwater in areas where traditional freshwater resources are scarce or polluted. However, this can be an energy-intensive process, and the concentrated brine left after desalination must be handled carefully so as not to damage the environment.
YANTAI JIETONG specialized in design, manufacture of various capacity of seawater desalination machines for more than 20years. Professional technical engineers can make design as per customer specific requirement and site actual condition.
---
---
Write your message here and send it to us